A question, a need?
Rates, terms and conditions for order forms?
Delivery terms?
Catalog, technical features, range of colours, complementary information?
Photographic documentation for publication?
Planning an exhibition or a seminar?
Knowing our recommendations?

Contact us right away by: irrealiste.forlaget@iriarte.info
or call: + 46 (0)8 551 701 77
Mob: + 46 (0)70 22 37 842

We will respond as soon as possible and support you in your project.
Place your order Online

© Exclusive rights IRREALIST ART EDITIONS
Playground Equipment and Urban Furniture
[ Art and Technology ]
ARTOTEC AB and IRREALIST EDITIONS designs, develops, manufactures and markets recreational sculptures and street furniture which are innovative, accessible, robust and durable, easy to use and easy to install.

ARTOTEC [Art & Technology] is a European company that combines artistic and innovative technology to the service of local authorities, contractors, architectural firms, landscape designers and creator of urban spaces.

An artistical and technical intention

ARTOTEC is also an organization of experts in the fields of technology, science and art to promote the creation of new playgrounds and outdoor equipment for children and also for adults.

ARTOTEC [Art & Technology] offers a range of products recognized as artistic, aesthetic and durable, modern, colorful and of the highest quality to create playgrounds and rest areas for all outdoor environment, accessible to all.

ARTOTEC develops its expertise in three key areas :



To innovate and create an artistic identity accessible to all.


To ensure the safety, reliability, quality of equipment and products.


To respect the environment.

ARTOTEC is synonymous with quality!



High quality product and finish.


Very robust and durable product thanks to a carefully selected choice of materials using organic design.


Report on use and accessibility by the Swedish Institute of Assistive Technology (SIAT) website: "their Equipment is designed to be used, amongst other things, by children and adults with disabilities.
Article published on the The Swedish Institute of Assistive Technology (SIAT) website.
An unique collection of recreational sculptures and street furniture
Climber GLING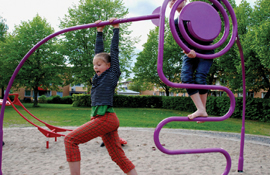 We provide exclusive play equipment in resistant and very durable materials of the highest quality guarantied for many years.
Climber ZAN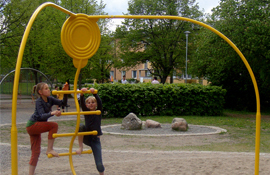 Play value and exercise of highest quality; training, climbing and movement skills that stimulate the imagination. Imaginative Games, role play or training course.
Seesaw ZOOLA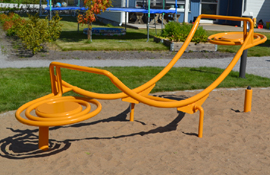 A seesaw easily accessible to children or adults, the abled-bodied or those with disabilities. Fun for Everyone!
Climber GONG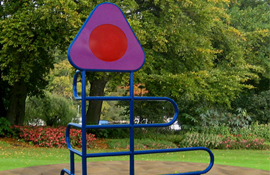 Climbing instrument, a game that takes you into the clouds or where imagination takes you, and recreational climbing sports. Bird wiew perspective.
Bench /Table PALL-ETT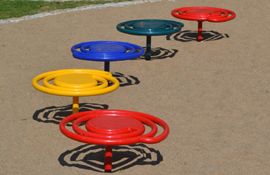 Equipment both sculptural and functional. To sit or as a low table. In group formation, it will serve as play equipment or training course (Physical training) or simply to rest.
Bench RE-WIND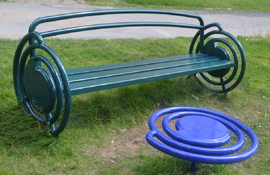 Simple solutions adapted to the specific design space. Easy operating mode, installation and maintenance . Methods with multiple benefits, solutions to the most complex requirements.
Bench RE-WIRE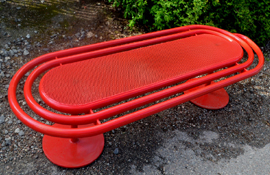 Resistant furniture to spring and winter cleaning and against UV damage. A high-end finishing, insulating, shock absorbing, anti-scratch, anti-graffiti and suitable for outdoor environments.
Bench RE-ROUND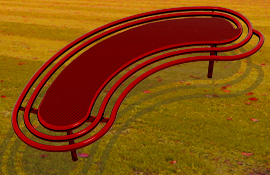 Wraps around a tree or a grove to create a friendly curvy space. Its purpose? to break the often too straight, strict and inflexible architecture of essentially functional urban environments.
Bench WAITING-POINT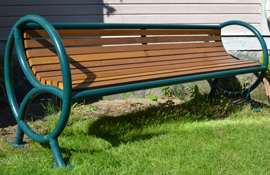 Wooden seat with ergonomic steel handles and armrests . Pleasant seating combining comfort and durability. Organic and ergonomic design.
Bench ROLLING-ROCKING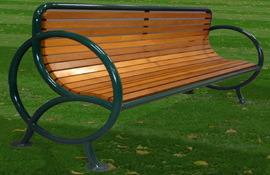 Technical support, efficient and fast for the planning and development of your project with assembly instructions, plans and other necessary documents. And / or as a tender or project presentation.
Bench ZIG-ZAG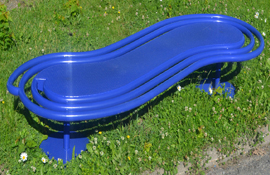 Virtually maintenance free. Can be supplied in any colour (200 shades of the RAL range) or stainless steel (extra cost for non-standard colours and finitions).
Slide BABOON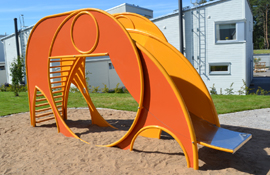 Integration and diversity of aesthetic personal and varied spaces, strengthening the identity of the site and allowing for friendly close encounters.
Bench R-YOU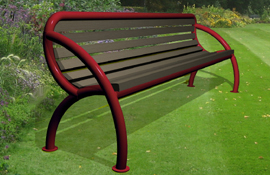 Wood and metal bench, ergonomic backrest and armrest. Many application in areas such as parks, squares, school yards for young or older.
Picnic Table PICNICULYS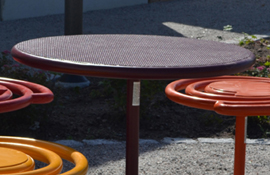 Self-cleaning picnic table and accessible to all .
Made of metal and perforated sheet.
Bench DIRECT-ERGONOMIC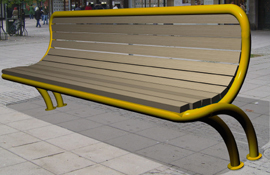 Bench with ergonomic backrest. We can design special equipment for high level requirement locations, an inventive mode of operating, sustainable design and great respect for the environment.
Dust-bins MUSSEL-PEARL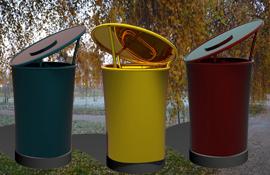 A unique organic, ergonomic and futuristic design. for a sustainable environment and beneficial to future generations.
The future is now!
Rotating chair ZICKI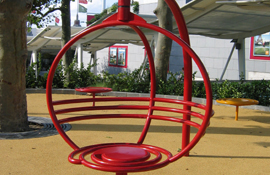 Creating an attractive space, fun, accessible and sustainable for the environment for all types of playgrounds and public areas and much more ... Robust therefore sustainable, That is our motto!
Cycle stand with shelter CYCLOBIK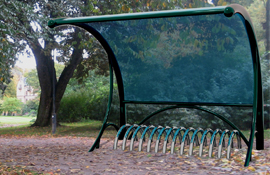 The roof can be made of Hammerglass which is made of virtually unbreakable polycarbonate or overlapping sheet or perforated steel plate.
It can also be used or turned into a shelter with a bench instead of a bike rack.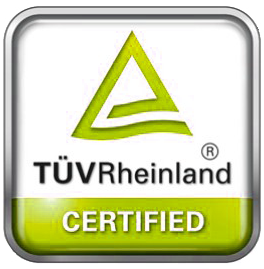 Steel tubes 5 mm or 3,2 mm thick with high finish coating: extra-resistant polymer developed with anti-corrosion, anti-scratch, anti-graffiti treatment for high exposure environment or extreme use (optional) with insulating properties.
Or standard finish for milder environments.
The tubes are made from recycled materials and can be reused.
Good for the environment and good for the future.

Ergonomic handle, soft shapes and durable materials.

Many possible combinations!

Choose from 200 colours of the RAL range of colours.
ARTOTEC will help you through the process of installation from the study of the site to the final installation of your product. At the implementation phase, ARTOTEC will assist you in the development and installation of your project. From the reception of your equipment to the performance check. The aim is to ensure, measure and optimize the quality of your installation while maintaining the security of its equipment and ensuring the respect for the environment.

ARTOTEC an unique collection



Art for your city, integrated into the functional architectural environment while maintaining a contemporary artistic, recreational,
comfortable, solid and fun identity.


An organic, ergonomic and futuristic unique Design.


Educational games, sports and rest equipment for the young and older children.


An enhancement of public spaces in the service of citizens. We provide exclusive play equipment in resistant and very durable
materials of the highest quality with many years of warranty.


A [Art & Technology] concept giving a cultural dimension to urban planning.


Educational games, sports and rest areas for the young as older.


We are continually developing new products, playground equipment, street furniture tailored to the needs and requirements of the user,
the installer and space designer such as shelters for bicycles, dustin-bins, lighting, fountains, ground games. All with a distinctive character and identity, a concept, an expression specific to [Art & Technology].

Each project has its own requirements and budget associated with it.



We make specific arrangements with the utmost skill and spear head technology in various fields.

About ARTOTEC Research & Development

ARTOTEC [Art & Technology] is an organization that is interdisciplinary bringing together experts from different fields of technology, science and art to promote the creation of new playgrounds, street furniture and outdoor equipment for children and adults.

New equipment dedicated to the game, called recreational sculptures are created in respect of safety, aesthetics and social and educational elements that make up this segment of the outdoor life.
High quality technical achievements is a sign of the seriousness of the entrepreneurial spiritof ARTOTEC AB.

Today, we have managed to build up a network of artists, designers, landscape architects, planners, researchers, engineers, manufacturers, artisans and qualified contractors, which together work for the creation and implementation of innovative and creative environments under the name ARTOTEC.

Safety (European standard EN 1176:2008 – ISO 9001 – ISO 14001 – TÜV Rheinland)



You wish to meet safety requirements while avoiding the risks and maximizing the security, quality and guarantees.


Meet the requirements of the standards for playground equipment, street furniture, ... ARTOTEC meets your expectations:


All our equipment and street furniture are approved in accordance with the latest standards and European safety standard EN 1176:2008. ARTOTEC also ensures the renewal of the standard.


All our products are developed according to accessibility guidelines for buildings and facilities: U.S. Access Board (2005) ADAAG Play (2000), Prellwitz & Skar (2007), Iwarsson and Stahl (2003) ISO 9241 international standards for accessibility - and universal Design.


Our recreational sculptures and street furniture are manufactured in accordance with European standards ISO 9001, ISO 14001 and TÜV Rheinland. Certificate Welding class European Standard EN 287 for use in areas that require maximum security.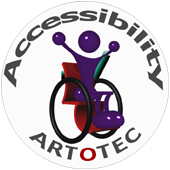 ARTOTEC cares and takes into consideration :



The imagination and curiosity of children and adults.


The perspective and aspiration of children and their environment.


The psycho-social, physical and motor environment of the child and their friends or relatives.


The strength and energy of children, teenagers and adults in moments of intense activity.

You are looking for your ideas to develop your project?

Contact us! for price and delivery conditions.
Place your order Online at ARTOTEC.
Depending on the choice of product, colours, type of foundation and the quantity, place of delivery prices can vary and be more beneficial to the client. We will guide you to choose the best alternatives. Usually, the production time is 3 to 8 weeks.

Send us your question, we will reply as soon as possible and support you in your efforts.
"The true reality is always unrealistic". - Franz Kafka -